Burger King Headquarters.
List of corporate contacts and facilities.
Burger King is a multinational fast food chain headquartered Florida, where it was founded back in 1953 under the name Insta-Burger King.
Initially, the company did not achieve much success, but this changed after undergoing renaming and re-structuring during the 1950s and 1960s, when the company expanded internationally, first in Canada and then in Europe, the Asia-Pacific region, and Latin America.
Burger King went public in 2002, and during the following years much effort was put into re-branding and redesigning the menu.
Nowadays, Burger King owns over 40 subsidiaries and has more than 15,000 restaurants around the world, which serve 11 million customers a day.
Burger King Corporate Office Contacts.
Burger King's global headquarters can be reached by phone and postal mail.
Find their contact details below.
Burger King Corporation Headquarters Phone Number.
+1-305-378-3000
Burger King Headquarters Switchboard Hours.
Monday to Friday, from 9 a.m. to 5 p.m. (Eastern Time Zone)
Burger King Email Address.
Contact the Burger King customer service by emailing to support@bk.com.
Burger King Corporation Headquarters Address:
5505 Blue Lagoon Drive
Miami, FL, 33126
USA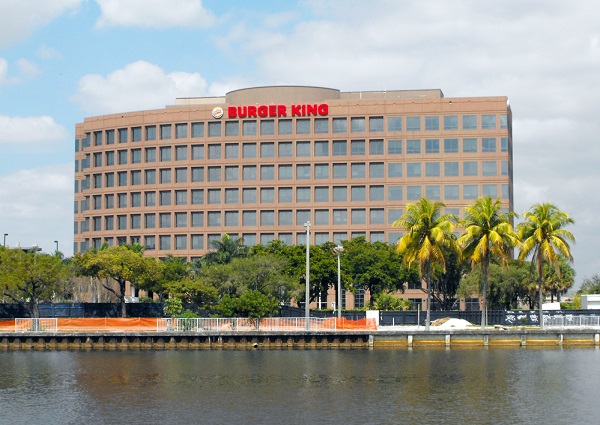 Burger King Executive Team.
This is the full list of Burger King's corporate leaders.
Daniel S. Schwartz, Chief Executive Officer
Joshua Kobza, Chief Financial Officer
Azel Schwan, Global Chief Marketing Officer
Heitor Goncalves, Chief Information, Performance & People Officer
Alexandre Macedo, President of Burger King North America
Jose E Cil, President of Burger King Europe
Jose Dias, President of Burger King Latin America & Global Development VP
Elias Diaz Sese, President of Burger King Asia Pacific
Rodrigo Musiello, Global Operations
Jill Granat, Secretary & General Counsel
Jacqueline Friesner, Chief Accounting Office & Controller
Burger King Board of Directors:
Alexandre Behring, Executiev Chairman
Marc Caira
Martin E. Franklin
Paul J. Fribourg
Ali Hedayat
Neil Golden
Thomas V. Milroy
Roberto Moses Thompson Motta
Daniel S. Schwartz
Carlos Alberto Sicupira
Cecilia Sicupira
Alexandre Van Damme
Burger King Careers and Jobs.
Burger King has created a webpage where you can browse existing opportunities at the company. Job listings are classified into campus vacancies for students and graduates, in-restaurant jobs, and professional roles.
Once you have found a suitable vacancy, you can apply to jobs online via this page.
How to complain to Burger King.
Burger King's Customer Service Department can be reached by phone on +1-866-394-2493. Customer Service agents are ready to receive calls and handle complaints daily from 7 a.m. to 11 p.m. (CST).
Burger King also operate a Feedback Page, where you can provide feedback or complaints about products, services, the mobile app, and more. Click on 'Leave us a message' to get to the feedback form. Product and service feedback is anonymous, whereas enquiries about the BK Crown Card or BK Mobile App requires you to leave you name and email address.
The company also has an official support page on Twitter (Twee at the handle @BurgerKingCares), where you can contact customer care agents 24/7.
Other Burger King Resources.
A comprehensive list of additional contact details and resources can be found below:
Do you have an issue with a recent Burger King visit? Then join the conversation below.