MyLowesLife Login.
Log in to the My Lowe's Life Employee website to check your Lowe's work schedule, benefits, payslips and more,
If you are currently employed by Lowe's, you will need to gain access to the Lowe's Employee website at some point.  This page will answer all your questions on how to login,  how to contact Lowe's Human Resources (contacts and phone numbers), and any questions you may have on employee discounts, work schedules, and paystubs information.
What is MyLoweslife?
Myloweslife.com is Lowe's employee portal. Lowe's is one of the largest home-improvement chains in America, with more than 265,000 workers, so naturally, Lowe's has provided an online platform for employees.
Once a MyLowesLife account has been set up for you, you can view and manage your pay slips, taxes, 401k plan, work schedules, benefits plans, job transition and more from within the portal.
MyLowesLife Phone Numbers and Contacts.
This is how you contact the Lowe's Human Resources department directly:
MyLowesLife Contacts – Current Lowe's Employees:
The official Lowe's Human Resources support phone number is: 1-888-HRINFO5 (1-888-474-6365).
The Lowes's Human Resources mail address is:
Lowe's Group Benefits (NB2CB)
1000 Lowes Boulevard, Mooresville, NC 28117.
MyLowesLife Contacts – Former Employees.
If you are a former employee at Lowe's, then you have these contact numbers to choose from, depending on your issue:
Medical Preventive Plans:
Call UnitedHealthcare on 1-888-257-5689
Dental: (MetLife, administered by COBRAGuard):
For questions regarding enrollment, eligibility, payment call COBRAGuard Participant Services at 1-866-442-6272.
For dental claim questions, contact MetLife at 1-800-942-0854.
Vision (VSP): 1-800-400-4569, option 2.
401k plans, see here.
Myloweslife.com Login.
To login/sign-in to the Lowes employee portal you must enter your Lowe's Sales Number (Employee ID) and your password, when visiting www.myloweslife.com. Please note, that there are several fake or unofficial websites out there, including www.myloweslife.org and www.myloweslife.net. Www.myloweslife.com is the correct login page.
The Sales Number and Password will be given to you by your Human Resources representative. You cannot register an account on www.myloweslife.com by yourself.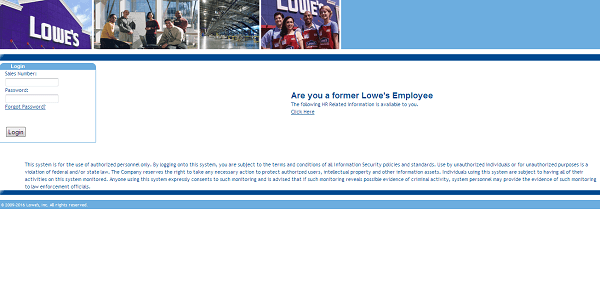 How to Recover your My Lowe's Life Password.
If you have forgotten your password for the MyLoweslife Employee Portal,then visit the login page and click on the 'Forgot Password?' link underneath the login box.
You will need to enter your correct Sales Id and answer a few security questions. You will then be able to choose a new password.
MyLowesLife Benefits.
Lowe's benefits for full-time and part-time employees.
Lowe's offer some quite attractive benefits plans to new and current employees. Full time Lowe's employees have 60 days to enroll and benefits are effective on the 90th day of employment at Lowes.
Part time Lowes employees have 31 days to enroll and benefits are effective after the enrollment date.
Employee Stock Purchase Plan June 1 or December 1 on or after the date of hire.
401(k) Plan is available after 180 days of continuous employment.
Full-time and eligible part-time employees can enjoy the following benefits plans, with varying rates, depending on the plan:
Medical, Dental & Vision Insurance
Life Insurance & Disability Insurance
Flexible Spending Accounts
Dependent Care Resources: Child & Elder Care Referral Services
Paid Holidays (inclusive of Floating Holidays)
Vacation
Family & Medical Leave
Sick Pay
Free and/or Discounted Tax Preparation Services
Lowe's Merchandise Discount
Discounted Stock Purchase Plan
401(k) Plan
Free Influenza Shots.
Discounted co-pays at CVS MinuteClinics
No-cost health screenings via 5 mobile health screening units, that visits each U.S. store.
Additional Lowes Benefits:
Workplace Flexibility
Flextime & Compressed Workweeks (Corporate Campuses Only)
Seasonal Schedules (Stores & Distribution only)
Customer Support Center On-Site Amenities
ATM
Cafeteria
Child Daycare Arrangements (Off-site)
Health & Fitness Fairs
Jogging/Walking Trails
Laundry & Dry Cleaning Services
Privacy Rooms for New Mothers
Health & Wellness
On-Site Nurses (Corporate & Distribution Campuses)
On-Site Pharmacy (Mooresville & Wilkesboro Corporate Campuses)
On-Site Work/Life Seminars (Corporate Campuses)
Lowe's Medical Plans for Full-Time Employees:
Lowe's offers 2 to 4 medical plans to full-time employees. Your medical coverage will be based on your work location or home zip code.
Lowe's Medical Plan for Part-Time Employees.
Lowe's offers part-time employees Preventive and Preventative Plus Plans via UnitedHealthcare. These plans meet the requirements of the Affordable Care Act (ACA).
Lowes Preventative Plans include:
Routine physical exams
Immunizations
Well-child and well-woman visits
Mammograms, colonoscopies
The part-time plan does NOT include:
Medical services for specific health issues or conditions
Ongoing care to manage or treat an already-identified or new medical issue.
Lowe's Benefit Plan Rates.
The Lowe's Medical plans start from $41.99 for an employee and $135.57 for a family plan (Tobacco-Free), and up to $71.67 ($231.35 for Family). Add-40-50% for Non Tobacco Free. You have 4 plans to choose from.
The Lowe's Dental Plan cost $7.21 for the 'Low' plan  (Family: $21.61) and $9.14 for the 'High' plan ($27.41for Family plan).
The Lowe's Vision Plan cost $2.34 for the 'Low' plan  ($6.36 for Family plan), while the 'High' plan is $5.95 (Family is $16.14).
The costs are bi-weekly and subject to change. The above rates are 2017 rates.
Read more about the employees benefit plans at www.mylowesbenefits.com.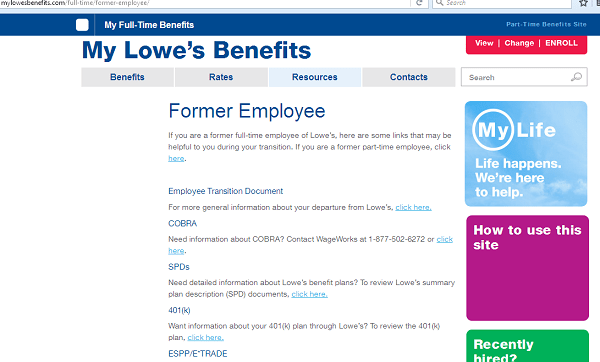 What is the Lowe's Employee Discount?
Employees can buy company products at a 10% discount. Employee purchases must be for the use of the employee, employee's family, or for gifts.
Lowe's Employee Relief Fund.
The Lowe's Employee Relief Fund (LERF) helps employees who face financial hardship. All full-time and low employees are qualified for the fund.
In 2015, LERF paid out $3.3 million to more than 2,800 Lowe's employees.
Lowe's Employee Stock Purchase Plan.
The Lowe's employee stock purchase plan (ESPP) is available for full-time employees immediately, and after one year of service for part-time employees.
The plan enables you to buy Lowe's stock at a discounted price. Stokc will be bought at a 15% discount off the closing price of Lowe's stock on the last day of the offering period. There are two six-month periods each year, that start on on June 1 and December 1. You can invest from 1% to 20% of your base pay (after-tax), up to $10,625 per purchase period.
MyLowesLife Resources:
Lowe's 'Foundations for Success' Employee Handbook
MyLowesLife Sign-In Help and FAQ.
Please add your experiences or issues with the MyLowesLife Employee Portal, in the comment section below.