Walmart Headquarters and Corporate Office Info.
See all Walmart Headquarters information here, including email contacts and customer service phone numbers, corporate addresses and a list of the executive board.
Learn how and where to complain about Walmarts products or services.
About Walmart.
Walmart is the world's largest retailer with 11,539 stores and clubs in 28 countries, under a total of 63 brands or banners. Walmart is a discount superstore with food, clothing and  brands, but every items. The company was founded by Sam Walton. The Walton family still owns the chain.
Walmart Corporate Offices.
The Walmart headquarters, or corporate office, is in Bentonville, Arkansas, where the first Walmart store saw the light of day.
Walmart Headquarters Address.
Walmart Headquarters 702 S.W. 8th St.
Bentonville, AR 72716
USA
Walmart Headquarters Phone Number.
The  Walmart headquarters phone number is 1-800-925-6278 or 1-800-WALMART.
Walmart Investors Relations Phone number.
The phone number for investor relations is 1-479-273-6463.
Walmart Customer Service Phone Number.
Walmart Customer Service phone number is: 1-800-966-6546 or 1-800-925-6278
Walmart Email Contact.
Walmart Customer Service Email is: help@walmart.com
For Store or Corporate feedback, please use the Feedback Form.
Walmart Corporate Website:
The Walmart headquarters website is Corporate.walmart.com. The website lists corporate contact information, the executive team and company news.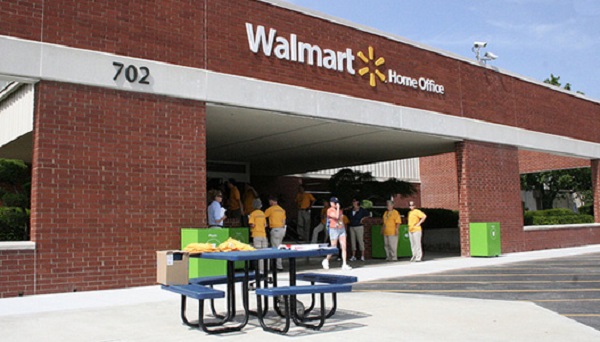 Walmart Executive Team.
The Walmart board of directors and key leaders include:
Mike Duke – Chief Executive Officer and President
Bill Simon – Chief Executive Officer and President of Walmart US.
Doug McMillon – Chief Executive Officer and President of Walmart International
Rosalind Brewer – Chief Executive Officer and President of Sam's Club
Neil Ashe – Chief Executive Officer and President of Global eCommerce
Joel Anderson – Chief Executive Officer and President of Walmart.com
Walmart headquarters board of directors:
Rob Walton
Aida Alvarez
James Cash
Roger Corbett
Douglas Daft
Timothy Flynn
Marissa Mayer
Lee Scott
Jim Walton
How to Complain to Walmart.
You can Email, mail and call the toll-free phone number 1-800-925-6278 to file complaints with Walmart. The company needs all complaints to be sent directly to the Walmart corporate headquarters, and not to individual Walmart stores. If calling, then request a customer service representative and give the store number of the Walmart store that you want to complain about. Then clearly state the complaint. Customers can also request a follow-up phone call.
You can also mail a complaint to Walmart's headquarters at 702 SW 8th Street, Bentonville, AR 72716. Alternativly, contact the company via its Facebook page.
Walmart Owned Brands
Walmart owns the following brands, among others:
Straight Talk
Great Value
Sam's Choice
Play Day
Price First
Equate
Mainstays
Ol' Roy
Special Kitty
Parent's Choice
White Stag
George
Athletic Works
Canopy
Durabrand
VUDU
Walmart Resources and Social Media Pages.
Feel free to share your experiences with Walmart in the comment section.
Save
Save
Save