AT&T  Headquarters.
AT&T is a telecommunications conglomerate and a Fortune 500 company headquartered in Dallas, Texas.
The company's modern history began in 1983, although its origins can be traced back 100 years prior to that date, when the American Telephone & Telegraph Company was founded towards the end of the 19th century.
As time went by, AT&T became the world's largest telecommunications company by revenue, and one of the largest providers of mobile and landline telephone services in the US.
The Dallas-based multinational employs nearly 250,000 people and has a varied product offer that includes fixed line and mobile telephone services, mobile, residential and business Internet access, satellite and digital television, and digital home security services.
AT&T Corporate Office Contacts.
AT&T's corporate office contacts are listed below. Anyone who wishes to get in touch with the company's head office must go through these channels.
AT&T Headquarters Phone Number.
+1-210-821-4105.
The Headquarters Switchboard Hours are Monday through Friday, from 9 a.m. to 5 p.m. (Central Time Zone) Please note, that while AT&T's corporate headquarters are in Dallas, the main telephone number uses a San Antonio area code.
AT&T Headquarters Address.
AT&T Headquarters
208 S. Akard St. Dallas, TX, 75202
USA
AT&T Human Resources.
Contact AT&T Career Support Services at 1-800-992-2478 to speak to the HR department. For current and formet AT&T employees only.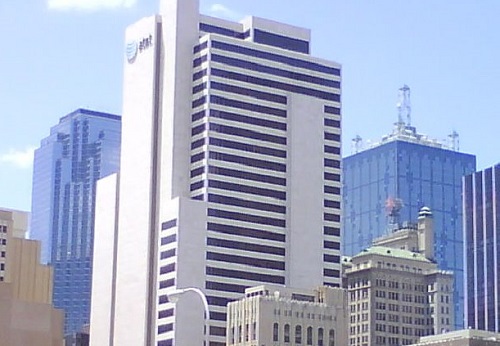 AT&T Executive Team.
This is the complete of key leaders at AT&T.
Randall L. Stephenson, Chairman and CEO
Ralph de la Vega, Vice Chairman and CEO for T&T Business Solutions and AT&T International
William A. Blase Jr., Vice President (Human Resources)
John Donovan, Chief Strategy Officer
David S. Huntley, Senior Executive Vice President & Chief Compliance Officer
Lori Lee, Senior Executive Vice President & Global Marketing Officer
David R. McAtee II, Senior Executive Vice President & General Counsel
Robert W. Quinn Jr., Senior Executive Vice President (External and Legislative Affairs)
John Stankey, CEO for AT&T Entertainment Group and AT&T Services
John J. Stephens, Senior Executive Vice President & Chief Financial Officer
AT&T Board of Directors:
Randall L. Stephenson
Michael B. McAllister
Joyce M. Roche
Beth E. Mooney
Samuel A. Di Piazza, Jr.
Matthew K. Rose
Richard W. Fisher
Cynthia B. Taylor
Scott T. Ford
Laura d'Andrea Tyson
Glenn H. Hutchins
Geoffrey Y. Yang
William E. Kennard
AT&T Careers and Jobs.
You can browse opportunities and follow up on the progress of submitted job applications here and here.
Information about internships, full-time development programs, and other opportunities for college graduates is available here.
Recent job postings can also be viewed on LinkedIn.
How to Complain to AT&T.
Residential Customers can call the toll-free Customer Service number on +1-800-331-0500. Lines are open Monday-Friday, 8 a.m. to 6 p.m. (EST).
It is also possible to send a written complaint by email to attcustomercare@att.com or send your complaints via Twitter to the handle @ATTCares.
Complaints related to Internet, phone services, and TV services (U-verse and DirectTV) are handled by the representatives available on +1-800-288-2020. Lines are open from Monday to Friday, 8 a.m. – 7 p.m., and on Saturdays between 8 a.m. and 5 p.m.
Complaints or questions related to mobile phone services should be directed at +1-800-331-0500. This phone number is manned daily between 7 a.m. and 10 p.m.
For issues related to business accounts, call +1-888-944-0447, where agents are available Monday to Frinday 9 a.m. to 6 p.m.
AT&T Live Chat.
One of the fastest ways to get through to customer service is to use the Live Chat service. Visit the Contact Us section on their website and choose the service that want to enquire about. On the next page, a blue 'Chat Available'  box will slowly appear on the bottom right and on the left hand side of the screen (on desktops), if the chat service is available for your product. Click on it, choose a service and enter your details and issue to start the chat.
Other AT&T Resources.
This section lists a series of AT&T resources and contact details that may be relevant to media professionals, investors, and members of the general public.
You are welcome to share praise or complaints about AT&T below.