Best Buy Corporate Office Headquarters
Best Buy Headquarters.
Best Buy's story began in 1966 in Saint Paul, when two entrepreneurs established a store specialising in hi-fi equipment and electronics. The store was initially called Sound of Music, and achieved phenomenal success during its first few years. In the early 80s, product offer was significantly expanded, and the company changed its name to Best Buy in 1983. There are now Best Buy stores in more than 1,000 locations, where customers can buy brand-name electronics as well as those from Best Buy's own brands, like Dynex, Platinum, Insignia, and Magnolia Home Theater.
The company has been awarded several prizes, including Specialty Retailer of the Decade (2001) and Company of the Year (2004).
Best Buy Corporate Office Contacts.
If you are looking to get in touch with Best Buy's headquarters in Minnesota, you can do so by sending a letter or by phone.
Best Buy Headquarters Phone Numbers:
+1-612-291-1000
+1-877-415-3487
Phone Line Hours: Monday to Friday, from 8 a.m. to 5 p.m. (Central Standard Time)
Best Buy Headquarters Main Desk.
To reach  particular headquarters departments or an internal corporate team, please call on:
+1-612-291-1000
Best Buy Human Resources.
If you are an Best Buy employee and you need to contact the Best Buy HR Support Center then please call on:
+1-866-MY-BBY-HR (866-692-2947)
Best Buy Headquarters Address:
Best Buy Headquarters
7601 Penn Ave. S. Richfield,
MN, 55423
USA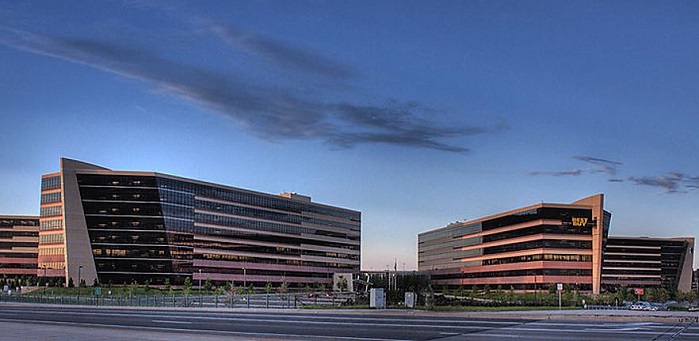 Best Buy Executive Team.
This is the full list of the key leaders at Best Buy.
Hubert Joly, Chairman & CEO
Shari Ballard, Senior Executive Vice President, President (U.S. Retail)
Corie Barry, Chief Financial Officer
Paula Baker, Chief Human Resources Officer
Matt Furman, Chief Communications & Public Affairs Officer
Mary Lou Kelly, President (E-Commerce)
Mike Mohan, Senior Executive Vice President & Chief Merchandising Officer
Keith Nelsen, General Counsel
Greg Revelle, Chief Marketing Officer
Asheesh Saksena, Chief Strategic Growth Officer
Trish Walker, President (Services)
Best Buy Board of Directors:
Hubert Joly, Chairman of the Board
J. Patrick Doyle
Lisa M. Caputo
Russell P. Fradin
Kahty J. Higgins
David W. Kenny
Karen McLoughlin
Thomas L. Millner
Claudia Fan Munce
Gerard R. Vittecoq
Best Buy Careers and Jobs.
Best Buy employs over 125,000 people and offers a variety of positions in both retail and corporate settings, including a training program for university graduates and opportunities for veterans.
You can explore the careers available at Best Buy by visiting this page. The company has dedicated career pages on various social media, like LinkedIn, Twitter, and Facebook.
How to Complain to Best Buy.
Any complaints can be directed to Best Buy's Customer Service team, which is available by calling +1-866-758-1457, +1-888-237-8289, or +1-888-BEST-BUY.
If you prefer to get support via Twitter, you can address your complaint to @BestBuySupport. Messages are replied to from Monday to Friday 7am-11pm (CST), and from 10am-6pm on Weekends and on public holidays.
The Geek Squad.
If you have a product that needs repair or if you have a technical question, then the Best Buy Geek Squad can help you. You need to have bought a Geek Squad Protection Plan to get help for free, though. It costs $199.99 for a 1 year plan, but then you get 24/7 Support for up to 3 devices. Call 1-800-433-5778 or use the Geek Squad Live Chat fuction to get immediate help.
The Best Buy Forum.
If you have a problem or a question, then you might be able to find an answer at the Best Buy Forum. You can ask a question and search for previously answered questions in the archive. Company Social Media Representatives are also at hand to answer questions or reply to complaints, but please expect to wait 24 hours for an answer.
Other Best Buy Resources.
Scroll down to find Best Buy's social media profiles, information about their Help Center and rewards program, and company sub-sites that may be of interest to journalists and investors.
Share your feedback, complaints as well as praise, on Best Buy, below.