Coca-Cola Headquarters.
Use this page to find information about the Coca-Cola Company, including details on how to contact the Coca Cola Headquarters, HR department, a brief company history, the company's executive team, and more.
We have also included a guide on how to best contact Coca Cola's customer service, and on how to file a complaint.
About Coca-Cola.
Coca-Cola was founded in Atlanta in 1886, when it began to distribute its trademark beverage for medicinal uses. The company's first bottling plant began to operate in 1891, and a year later The Coca-Cola Company was legally incorporated.
Today, Coca-Cola is the world's largest beverage company and sells its products in every country except for North Korea. Coca-Cola's owns 500 brands and manufacturers and or supplies nearly 4,000 products ranging from carbonated drinks to tea, coffee, liquid flavor enhancers, water, fruit juices, and protein shakes.
Some of the most famous brands owned by The Coca Cola Company are: Coca Cola Zero, Fanta, DASANI, Minute Maid, Nestea, Odwalla, Del Valle, Vitaminwater and Powerade.
Coca-Cola Corporate Office Contacts.
You can contact Coca-Cola's headquarters by phone, fax, or written mail:
Coca-Cola Headquarters Phone Number.
+1-404-676-2121
Coca-Cola Headquarters Switchboard Hours.
Monday to Friday 8.30 a.m. to 5.30 p.m. (Eastern Time Zone)
Coca-Cola Headquarters Fax Number.
+1-404-676-6860
Coca-Cola Headquarters Address:
The Coca Cola Company
1 Coca-Cola Plaza NW,
Atlanta, Georgia, 30313
USA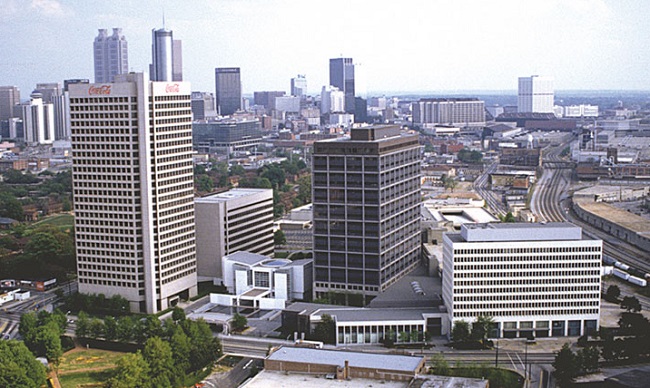 Coca-Cola Executive Team.
This is a full list of Coca Cola's top executives.
Muhtar Kent, CEO
James Quincey, President & Chief Operating Officer
Marcos de Quinto, Executive VP & Chief Marketing Officer
J. Alexander Douglas Jr., President for North America
Ceree Eberly, Senior VP & Chief People Officer
Irial Finan, Executive VP & President (Bottling Investments)
Bernhard Goepelt, Senior VP & General Counsel
Julie Hamilton, Senior VP & Chief Customer and Commercial Leadership Officer
Brent Hastie, Senior VP (Strategy & Planning)
Ed Hays, Senior VP & Chief Technical Officer
Barry Simpson, Chief Information Officer
Clyde C. Tuggle, Senior VP & Chief Public Affairs and Communications Officer
Kathy N. Waller, Executive VP & Chief Financial Officer
Craig Williams, Senior VP & President of The McDonald's Division
Coca-Cola Board of Directors:
Muhtar Kent, Chairman
Herbert A. Allen
Ronald W. Allen
Marc Bolland
Ana Botin
Howard G. Buffett
Richard M. Daley
Barry Diller
Helene D. Gayle
Alexis M. Herman
Bobby Kotick
Maria Elena Lagmasino
Sam Nunn
David B. Weinberg
Coca-Cola Careers and Jobs.
With a workforce of over 123,000 people, Coca-Cola is one of the world's top 10 largest employers. Browse through this page this page to view career opportunities with Coca-Cola in areas like manufacturing, supply chain, sales, marketing, communications, HR, legal, IT, and more.
This link contains information about graduate and undergraduate internships, and company's LinkedIn page is another useful source of job listings.
How to complain to Coca-Cola.
Coca-Cola's Customer Service team is available on +1-800-438-2653 and +1-800-227 711. Lines are open between 9 a.m. and 7 p.m. from Monday to Friday (EST).
In addition, this web form can be used to send complaints or feedback about Coca-Cola products. Written complaints can also be sent to The Coca-Cola Company, P.O. Box 1734, Atlanta, GA 30301.
If you wish to submit a suggestion, idea or advice for The Coca Cola Company, please use the Submit an Idea Form.
For minor issues or questions, its faster to contact Coca Cola on Twitter via the handles @CocaCola or @CocaColaCo. Customer Service representatives will be able to reply in 20-30 minutes, usually.
Other Coca-Cola Resources.
The links below will help you find additional resources and contact details for Coca-Cola, its various departments and services.
Coca-Cola on Twitter / @CocaColaCo
Media enquiries:  press@coca-cola.com / +1-404-676-2683
Investors / Or contact Tim Leveridge, Vice President, Officer of Investor Relations, +1-404-676-7563
Board of Directors: asktheboard@coca-cola.com
Please share your experiences, praise or complaints about The Coca Cola Company in the comment section below.