Kroger Feed ESS eSchedule – Feed.Kroger.com
Kroger ESS Login – Kroger Express HR and Feed.kroger.com.
Previously, the Kroger employee website could be found www.greatpeople.me, but the company has recently announced its shift to Kroger Express Hr portal as the basic website to let their employees view their pay stubs. Confusingly, Feed.kroger.com was also previously used for checking employee schedules, but nowadays, all applications can be found online at either https://sso.kroger.com/SecureWEB/kswlogin.fcc and https://ess.kroger.com/SecureWEB/kswlogin.fcc.
The new SecureWeb login page acts as the employee portal login page for all the Kroger companies, including Kroger, Smith's, King Soopers, Fry's, QFC, City Market, Ralphs, Dillons, Owen's, Jay C, Pay Less, Metro Market, Mariano's, Baker's, Gerbes, Harris Teeter, Pick 'n Save.
Kroger Express HR.
What is Kroger Express HR?
Kroger Express HR is Kroger's intra store employee portal, used to access paystups and W-2 forms. Users can set up direct deposit, update personal information and much more.
How do I view my Kroger Paystubs at Kroger Express HR?
If you want to access your Kroger paystubs at home, you must log in at https://ess.kroger.com/SecureWEB/kswlogin.fcc.
Then, type in your Kroger Enterprise User ID and Password to log in to Kroger HR Express.
If you are accessing the Kroger ESS Portal between 3-10 AM ET on Wed or 3-8 AM ET on Mon, Tue, Thu, Fri, Sat and Sun, then be aware that this is a regular maintenance period and the system is may not be available.
For more information on how to access the Kroger Express HR portal and how to contact the HR department, if you cannot view your paystubs, then visit our Kroger Express HR page.
Feed.kroger.com – The Kroger Feed Work Schedule Login.
Kroger Feed used to allow representatives to sign in and approaches their calendars on the online portal at feed.kroger.com and Greatpeople.me. However, Greatpeople.de and Feed.kroger.com have been phased out and now re-directs users to https://sso.kroger.com/SecureWEB/kswlogin.fcc, from where employees can now log in and access their schedules under the application named "Kroger eSchedule" or "Kroger My Schedule".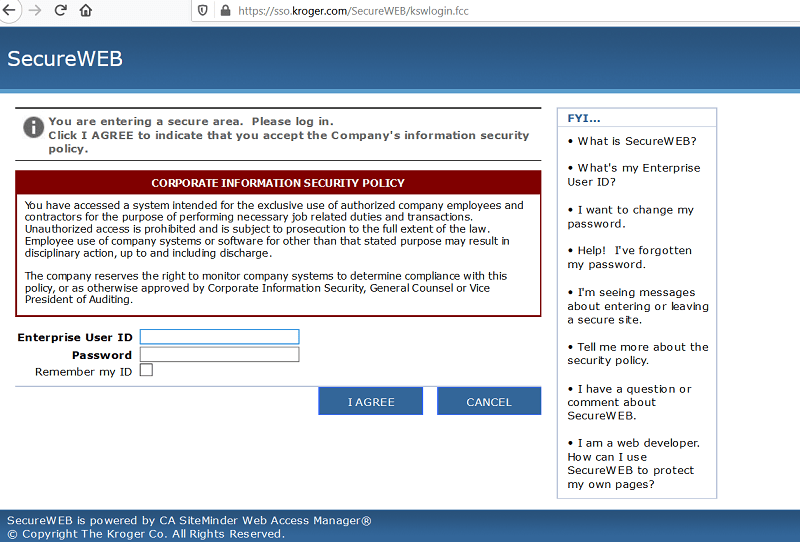 Feed.kroger.com Eschedule Login – Rules & Requirements.
To successfully log in to the Kroger ESchedule portal, you must:
Have a valid Kroger Username to the Kroger Express HR portal.
Know the password to the portal.
Have a mobile phone, a laptop, or a tablet.
Have online access with a stable internet connection.
Feed.kroger.com Rules.
To see your Kroger Employee Work Schedule Login online at Feed.kroger.com, please be aware of the following:
To access the Kroger Schedule application, you must be an current employee of the Kroger Company.
To sign into the Kroger ESchedule Login Portal, you must have a Username and Password.
Do not share the username and password with anyone else.
Access the login with the company's valid URL at https://sso.kroger.com/SecureWEB/kswlogin.fcc. Feed.kroger.com now re-directs to this URL.
How to check your Kroger Schedule at Feed.kroger.com.
To check your Kroger work schedule online, please do the following:
Have your EUID and Password ready to login to your Kroger ESS account.
Visit https://sso.kroger.com/SecureWEB/kswlogin.fcc.
Enter your EUID and Password in the given in the fields.
Press "I AGREE" after you entered the credentials correctly.
You would now be able to see your Kroger "My eSchedule" beside "Store Updates".
Click on it and check your schedule.
Kroger ESS and Feed.Kroger.com Login problems.
You must know your Enterprise User ID (or "EUID") in order to log in. This is the same ID that is used for many Company systems. Contact your manager or an Information Security contact at your work location if you do not know your ID.
Kroger Enterprise IDs are not case sensitive; that is, any letters in your Kroger Enterprise ID may be typed as either uppercase or lowercase letters.
Your Kroger EUID should look something like this "AB12345" where "A" and "B" represents the starting letters of your first and last name.
Use the password that's associated with your Enterprise User ID (or "EUID") to log in.
Remember, that passwords are case-sensitive, so make sure the Caps Lock on your keyboard is off.
How do I change my Feed.Kroger.com/Kroger ESS Password?
The only way to change your password is the computers at work. If you're accessing through a personal computer it won't work. Period.
Greatpeople.me.
What is Greatpeople.me?
What happened to www.Greatpeople.me?
Greatpeople.me was Kroger's employee online platform, dedicated to company news and employee management. Recently Kroger announced their new portal feed.kroger.com which replaced Greatpeople.me and Barneyweb.com However, the feed.kroger.com website was also phased out and all older platforms now redirect visitors to the Kroger SSO login webpage at https://sso.kroger.com/SecureWEB/kswlogin.fcc.
Mylifeatkroger.com.
What is Mylifeatkroger.com?
How do I manage my Kroger employee benefits?
Mylifeatkroger is Kroger's employee benefits portal and can be found at: https://www.mylifeatkroger.com/. It was previously found at www.yourkrogerbenefits.com.
To manage your benefits as a currect employee, go straight to the login page at https://secureweb.kroger.com/SecureWEB/kswloginext.fcc.
If you a Kroger retiree or a spouse, then you must log in at https://auth.mercerbelong.com/Auth/Kroger/Account/ClientLogon?Target=https://www.mylifeatkroger.com/authpage.
COBRA Enrollment information can be found at COBRA.EHR.COM.
The Kroger employee benefits include:
Paid Holidays / Vacation.
401(k)
Company Store Discount.
Life Insurance/Disability.
Casual Dress/Atmosphere.
Paid Sick Leave.
Flex-Time / Flexible Schedule.
Profit Sharing
Defined Benefit Pension Plan
Defined Contribution Pension Plan
Kroger Human Relations Contacts.
How do I contact Kroger HR?
The Kroger HR postal address is:
Kroger Human Resources
The Kroger Co.
Attn: HR
1014 Vine Street
Cincinnati, Ohio 45202-1100
The Kroger Call Center phone number is: 1-800-KRO-GERS (1-800-576-4377).
Open Mon. – Fri. 7 a.m. – Midnight, EST
Sat – Sun. 7 a.m. – 9:30 p.m, EST
The Kroger Corporate Switchboard phone number is: (513) 762-4000.
The Kroger HR phone number is 1-800-952-8889. Key word Express HR.
If you have any questions, then ask your manager or email corpassociatecommunications@kroger.com.
You can also leave a comment or complaint in the comment section below this page.