Macy's Corporate Office Headquarters
Macy's Headquarter.
This page provides extensive information about US retailer Macy's, its corporate operations, and other key company departments.
We have collected a wealth of useful resources about the Macy's Headquarters, Customer service contacts, Executive Team and more, all compiled on one page.
About Macy's.
Department store Macy's has been selling housewares, clothing, accessories, and furniture since 1858. Over the following decades, the New York flagship store expanded several times to accommodate growing demand, and additional stores opened in 45 US states, some of them under the names of Bloomingdale's and Buemercury.
In 2016, Macy's ran 870 stores across the US and its workforce exceeded 157,000 people.
Macy's Corporate Office Contacts.
Get in touch with Macy's head office by using the contact details that we have listed here:
Macy's Headquarters Phone Number.
+1-513-579-7000
Macy's Headquarters Switchboard Hours.
9 a.m. to 5 p.m. Monday – Friday (Eastern Time Zone)
Macy's Headquarters Fax Number.
+1-302-636-5454
Macy's Corporate Headquarters Address.
7 West Seventh Street
Cincinnati, OH 45202
USA
Macy's New York Headquarters.
151 West 34th Street, New York, NY 10001 / +1-212-494-1602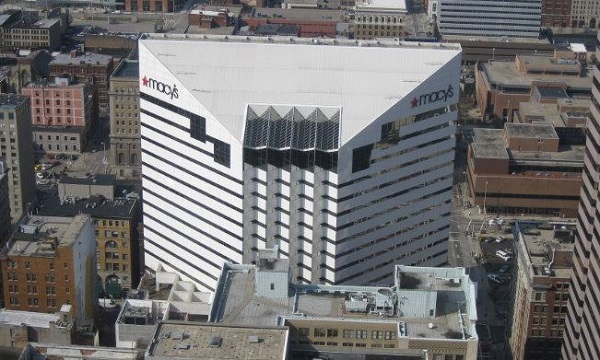 Macy's Executive Team.
This is the complete list of key leaders at Macy's.
Terry J. Lundgren, CEO
Jeffrey Gennette, President
Timothy G. Baxter, Chief Merchandising Officer
Elisa D. Garcia, Chief Legal Officer
Robert B. Harrison, Chief Omnichannel Officer
Karen M. Hoguet, Chief Financial Officer
Sherry Hollock, Chief Human Resources Officer
Jeffrey A. Kantor, Chief Stores Officer
Molly Langenstein, Chief Private Brands Officer
Richard Lennox, Chief Marketing Officer
Justin MacFarlane, Chief Strategy, Analytics and Innovation Officer
Patti H. Ongman, Chief Planning Officer
Peter Sachse, Chief Growth Officer
Tony Spring, Chairman and Chief Executive Officer (Bloomingdale's)
Macy's Board of Directors:
John A. Bryant, Chairman of the Board
Francis S. Blake
Deirdre P. Connelly
Jeffrey Gennette
Leslie D. Hale
William H. Lenehan
Sara Levinson
Terry J. Lundgren
Joyce M. Roche
Paul C. Varga
Craig E. Weatherup
Marna C. Whittington
Annie Young-Scrivner
Macy's Careers and Jobs.
You can view current job openings at Macy's by visiting this page, where you can search career opportunities by keyword, location, category, shift, and schedule. The same page can be used to apply to jobs online.
For military recruiting, visit Macys Military Recruiting, and for graduate opportunities, go to this page.
More information about careers at Macy's can be found on their official LinkedIn and Twitter jobs pages.
How to complain to Macy's.
Macy's Customer Service representatives are available round the clock on toll-free number 1-800-289-6229.
If your complaint relates to damaged or defective items, please use this form.
Complaints about online experiences should be sent using this link. Complaints about in-store experiences can be filed via this survey.
For complaints concerning missing / undelivered orders, follow the instructions found here. You can also complain by writing to: Macy's Customer Services Department, 9111 Duke Boulevard, Mason, OH 45040.
Macy's social media customer care is also very active on Twitter. Tweet your issue, question or complaint to Macy's Twitter, and they will usually reply within 24 hours. Alternatively, for minor issues, send an email to socialmedia.assist@macys.com.
Other Macy's Resources.
Comprehensive list of additional contact details and resources for Macy's.
Macy's on Twitter / @Macys
Macy's Corporate Marketing Department: 151 West 34th Street, New York 10001 / 212-494-3000
Macy's Logistics & Operations Department: 500 Meadowlands Parkway, Secaucus, NJ 07094 / 201-863-3250
Macy's Systems & Technology: 5985 State Bridge Road, Duluth, GA 30097 / 678-474-2000
Macy's Merchandising: 11 Penn Plaza, New York 10001 / 646-429-6000
Please share your experiences, praise or complaints about Macy's, in the comment section.