Macys Insite Employee Login and Guide.
Everything you need to know about Macy's Insite, the employee and associate website for Macy's Department stores.
Check your Macy's work schedule online, view you medical benefits, get login help for Macy's Insite, find contact phone numbers for Macy's Human Resources department and much more.
Macy's, Inc. owns Macy's Department stores and Bloomingdale's. Macy's operates 840 department store locations in the United States. Macy's is the largest U.S. department store company by retail sales and is the 15th-largest retailer in the United States in terms of revenue. The company employs 157900 people.
Should I use Macys Insite or Macy's Employee Connection?
New employees may be confused about the existence of two different employee website addresses:
Www.employeeconnection.net is the "public face" of Macy's employee portal, with news and information that is available for all visitors.
To enter the actual Macy's Insite employee page, click on "My Insite" in the top corner. Or, go straight to the Macy's Insite Login page here.
The site at www.myinsitenow.com is NOT an official Macy's of Bloomingdale's website.
What is Macys Insite?
Macy's  has designed the Macy's Insite website to make life easier for employees at the Macy's department stores. This website is a data base that is only accessible to its employees and is designed to keep its employees information organized and secure while being easily accessible to the employees.
Macy's Insite Employee connection
Recognizing the need for keeping the information of its employees secure and private made the company set up a website called Macy's insite employees connection. What this lets the employees do is;
• Check on their benefits.
• Check their medical care and make changes to their medical and dental coverage
• Give them news and information about the company as well as read a magazine which is dedicated to the employees.
• It also lets the employees solve any problems or discrepancies that they may find with either their pay or benefits.
• The employees can also change social security and 401K information.
• They can view their W2 and other employee information.
Macy's insite Employee log in
If you are new to the Macy's insite website you will have to register with the site to be able to log in and use the facilities that are available. To do this you will need to;
• Go to www.employeeconnection.net.
• Click the insite logo
• Under the space you are needed to enter your employee ID and password you have new user/ forgot password option. Click on this.
• You now will be taken to a validation screen where you have to fill in personal details like your social security number, 8 digit employee ID, birth date, home zip code and your mothers maiden name.
• Now click on sign in
• You will be assigned a temporary password which you can change to access the site.
If you already are registered with the site then all you have to do when you go to www.employeeconnection.net. Is to click on the insite logo then click on the Sign in button and fill in your employee ID and password.
Macy's insite my Schedule
Macy's insite website also contains information pertaining to your schedule. To access this information you have to first go to www.employeeconnection.net.
• Now you have to log in to your account.
• Once you are logged in click on 'My schedule' it will be on the left hand in the menu area.
• This will show you your schedule.
Macy's insite website not only lets the employees check on information they need about themselves and the company but only the administration at Macy's can access the employee information making this a very secure site for the employees.
Macys Insite Login.
If you are a returning user, type your 8-digit employee ID number and In-Site password in the appropriate fields, and click Log In. If you do not have an Employee Connection account yet, input your SSN and 8-digit employee ID number to apply for a new account.
This site recommends Microsoft Internet Explorer and Mozilla Firefox to login your account and make sure your information is safe. If you are using some other type of browsers, you may read the message to ask you change the browser. There are lots of information available at Macy's in-site employee connection site. Like paycheck, TreasureDirect, Bloomingdale's bill payment, Macy's bill payment, social security information, college bound fund employee payroll direct deposit program and lots of other resources.
How to access Macy's Insite.
There are two options to access In-site, one is from your work location's HR Kiosk or Desktop PC:
Double click the Internet Explore desktop icon to open Macy's intranet.
Type "insite" in the address box and press "Enter".
At the landing page, click "Log In" on the top right corner.
Enter your 8-digit Employee ID and Password at the Sign In window and click "Sign In".
The other way is to access In-site from your home computer via the Internet:
Go to the Macy's In-site Employee Connection site at www.employeeconnection.net/insite.
Click "IN-SITE" among the top sections at the landing page.
At the new page, click red button marked "SIGN IN".
Enter your 8-digit Employee ID and Password and click "Sign In" at the Sign In window.
If you encounter some issues related compatibility, please refer to the Site Requirements. Please note that after 5 invalid login attempts, you will be locked out. If you are a first time user or you just forgot your password, you can get it all started over through "New User/Forgot Password" option:
Follow one of the procedures above to access the In-Site either from work or home.
Click "New User/Forgot Password" under the Sign In window. Then you will be asked to provide information at a validation screen including:Last four digits of your Social Security number
Your 8-digit Employee ID
Your birth date (mm/dd/yyyy)
Your home ZIP Code
Your mother's maiden name
Complete the required information and click "Sign In". You would receive a temporary password which you can change it later on through "Change Password" link.
If you like Macy's in-site employee connection and plans to work in a company like this, macysjobs.com is the first place you should visit. Walmart careers, USPS employment and Sears application offers great opportunities for you as well.
Login Macy's in-site employee connection at www.employeeconnection.net/insite and check your paycheck online.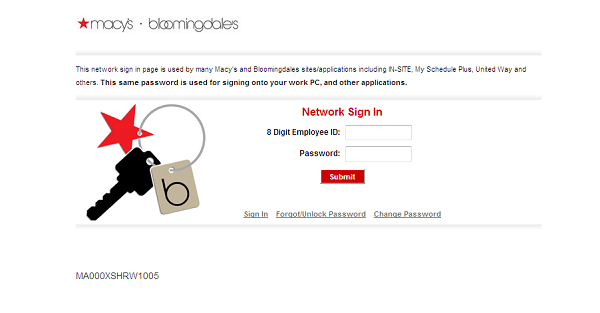 Macy's HR Human Resources Contacts.
The Macy's HR Department can be reached on: 1-800-234-6229.
Macy's Customer Service is on: 1-800-289-6229
Macy's Corporate Office phone number is: 1-513-579-7000.
To email Macy's or Bloomindale's HR Department, please use the Email Form here. You can expect an answer in one or two days.
Macy's and Bloomindale's Corporate Addresses:
MACY'S CORPORATE SERVICES
7 West Seventh Street
Cincinnati, OH 45202
513-579-7000
or
151 West 34th Street
New York, NY 10001
212-494-3000
BLOOMINGDALE'S
1000 Third Avenue
New York, NY 10022
212-705-2000
Macy's Careers and Jobs.
If you are looking for a job at Macy's or Bloomingdale's or you are an existing employee who wants a new challenge, then you can visit Macy's dedicated Job Site or Bloomingdale's Job Site.
You can search the website based on job category or location.
Macy's Benefits.
This is a detailed list of the the benefits that can enjoy or enroll in as a Macy's or Blooningdale's employee. For information on Macy's, Inc. Health and Welfare programs, visit the My Benefits section of the Macy's INSITE portal.
Macy's Health Benefits
Macy's health benefits are adminitered by COBRA Adp.
Macy's Employee Discounts
You, your spouse, and eligible dependents will receive a 20% discount on regular-price and sale merchandise (10% on special items) at any Macy's, Inc. retail operation across the country. This includes all Macy's and Bloomingdale's locations, and online on macys.com and bloomingdales.com.
Macy's 401(k) – Retirement
Profit Sharing 401(k) plan as well as your Cash Account Pension plan. You can also change your deduction contributions, move money between funds, initiate a loan, and enroll in the 401(k) plan. If you have any questions about 401(k) and pension plans contact the Merrill Lynch Participant Service Center at 1-800-234-MACY.
Macy's Social Security
The Social Security Administration provides services that allow you to apply for Social Security Retirement and Spousal Benefits, request a Social Security Statement, tools to estimate your benefit amounts as well as services for people who have recently applied for Social Security Benefits.
AARP
The AARP website provides information regarding member services including financial, medical and insurance as well as eligible discounts, membership renewals and magazines.
Macy's Earning for Learning Program
The Earning for Learning program offers you the opportunity to have Macy's, Inc. provide financial aid to educations where you volunteer your time.
Macy's Matching Gifts Program
The Matching Gifts program offers you the opportunity to have Macy's, Inc. match donations that you give to your favorite charities.
Macy's, Inc. Scholarship Program
Macy's, Inc. sponsors a college scholarship program for students who are children of full-time or part-time employees or who are employees themselves. The program is administered by the National Merit Scholarship organization.
Macy's College Bound Fund Employee Program
The College Bound Fund Employee Payroll Direct Deposit Program provides a flexible, tax-advantaged 529 college savings program managed by Alliance Capital, which gives you the convenience of saving through the direct deposit process.
Macy's Employee Assistance Program (EAP)
The next time something comes up in your day-to-day life, call on your Cigna Employee Assistance program. Cigna has the people and resources in place to help you figure it out. Cigna can be reached on 1-800-558-8361.
Cigna can help with:
Adoption, parenting and child care
Legal and financial services
Emotional well-being
Daily living needs and more
No matter what you need, chances are we can help. Best of all, it's free.
Macy's Resources.
Macy's Employee Connection – www.employeeconnection.net
Macy's on Facebook – www.facebook.com/Macys
Macy's on Twitter – twitter.com/Macys
-Macys Insite Login – EmployeeConnection.net and Macys Insite Help-
Please share your experiences, complaints or advice on the Macy's Insite Employee Portal, in the comment section.
Save