MyTHDHR – Home Depot ESS.
MyTHDHR login  help and FAQ: Everything you need to know about the www.mythdhr.com Home Depot employee website.
Learn how to view your MyTHDHR schedule and paystubs, get MyTHDHR Login Help, see Home Depot Human Resources contacts & phone numbers, and view the list of Home Depot's Benefits resources.
What is MyTHDHR?
MyTHDHR.
MyTHDHR is Home Depots online employee portal. It is located at www.mythdhr.com. Home Depot employees can use the website to see and manage their schedules, view paystubs and access company news.
My Apron.
My Apron is part of the Home Depot Associate online network, but can only be accessed from a Home Depot store. The Home Depot My Apron system is unavailable on computers outside of the Home Depot network.
The My Apron network allows Home Depot employees to access work schedules, benefits, payroll deposits, tax documents and personal information,  and employees can apply for promotions or new positions through the My Apron. Employees must have and user ID and password to access the My Apron network.
Home Depot ESS.
The Home Depot Employee Self-Service Validation system, allows Home Depot workers to add or modify personal information to the company records.
From ESS employees can:
View and print historical pay statements and tax statements
Change tax withholdings
Change direct deposit information
Activate a payroll card
Change the employee mailing address
The ESS Login page for current Home Depot employees can be found here.
The ESS Login page for former Home Depot employees can be found here.
The Home Depot currently employs more than 385000 associates and is the fifth largest employer of the companies listed on the S&P 500.
LiveTheOrangeLife.
Livethe OrangeLife Benefits Choice Center.
LiveTheOrangeLife is Home Depot's employee benefits portal, and it is a separate website with its own homepage. The homepage can be accessed at www.livethehealthyorangelife.com.
Please note that the Benefits Choice Center portal requires a different UserID and password, that you have to set up yourself, as a new user. Click on the 'Are you a new user?' link to create a new account. The login system is not case sensitive, so you can enter both upper or lower case letters for your User ID and password.
MyHTDHR View your Schedule – Login.
The most accessed function on the Home Depot Associate website is the 'View Your Schedule' tool.
As an Home Depot employee, you can view your up-coming work schedule by logging in to the Schedule module.
To login succesfully, you must supply your user ID and password, as well as the number of the store, that your work at. After signing in, you will be directed to the schedule tool.
If you are having problems signing in, then please check that the CAPS lock button is OFF on your keyword and that you have entered the correct store number.
If you are still having problems, then call the MyTHDHR Help Line on 1-866-myTHDHR.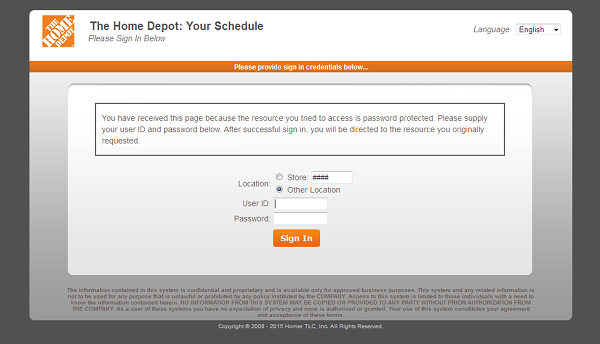 Home Depot Human Resources Contacts.
Home Depot Benefits Phone Number:
Benefits Choice Center Phone Number: 1-800-555-4954
The line is open from Mon-Fri 9am – 7pm (EST)
Live Chat about benefits is available from Mon-Fri 9am – 11pm (EST) at www.LiveTheOrangeLife.com
MyTHDHR Human Resources Phone Number:
1-866-myTHDHR (1-866-698-4347)
The line is open from Mon-Fri 8am – 8pm (EST), Sat (HRSC & RSC) 8am – 5pm (EST). Closed on Sundays.
Email: myTHDHR@homedepot.com
Home Depot Employee Stock Purchase Plan Phone number:
1-800-843-2150
Home Depot Corporate Office Address.
HomeDepot's corporate address is:
Home Depot
2455 Paces Ferry Rd SE, #B #3,
Atlanta, GA 30339-1834
Home Depot Employee Resources.
Home Depot Benefits Center Homepage
Home Depot Benefits and Health Plan Contacts PDF
Home Depot Twitter Career Page
Please share your experiences with, issues or complaints about the MyTHDHR website, in the comment section.