Papa John's Corporate Office and Headquarters.
All available corporate information about the pizza restaurant franchise Papa John's, as well as a brief company history, links to the firm's social media, the Headquarters phone number and address, Careers & Jobs information, and more.
We have also added a guide to contacting the Papa John's Customer Service department via phone or email forms.
About Papa John's.
The America restaurant chain Papa John's specializes in pizza delivery and has been established since 1984.
The company was founded by John Schnatter, who opened a small takeaway pizza outlet in Jeffersonville (Indiana).A year later, he opened the first Papa John's restaurant and began run the company on a franchise business model, and a decade later, Papa John's had over 100 franchises.
By the mid 90s the number of Papa John's locations had grown to 500. The company's success earned Papa John's a high ranking in the 1995 Forbes List of the Nation's 200 Best Small Companies.
Nowadays, Papa John's operates nearly 5,000 restaurants in 37 countries across Europe, Asia, and North America, and continues to receive high rankings for its commitment to customer satisfaction and product quality.
Papa John's Corporate Office Contacts.
To contact Papa John's Headquarters, please use the information listed below:
Papa John's Headquarters Phone Number.
+1-502-261-7272
Papa John's Headquarters Switchboard Hours.
Monday to Friday 9 a.m. to 5 p.m. (Eastern Standard Time)
Papa John's Corporation Headquarters Address.
2002 Papa John's Boulevard,
Louisville, Kentucky, 40299-2367
USA
As an alternative mailing address, you can also write to Papa John's International, Inc. P.O. Box 99900, Louisville, KY 40269-9990.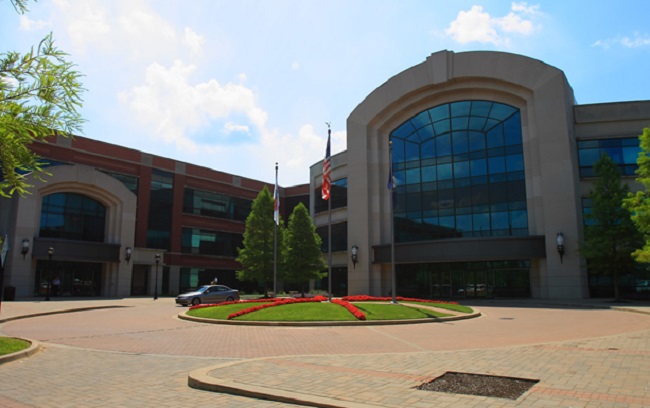 Papa John's Executive Team.
This is the full list of Papa John's most senior leaders.
John Schnatter, Founder, Chairman, and CEO
Steve M. Ritchie, President and Chief Operating Officer
Lance F. Tucker, Senior Vice President, Chief Financial Officer, Chief Administrative Officer and Treasurer
Timothy C. O'Hern, Senior Vice President and Chief Development Officer
Papa John's Board of Directors:
John Schnatter, Chairman of the Board
Olivia F. Kirtley
Christopher L. Coleman
Laurette T. Koellner
Sonya E. Medina
Mark S. Shapiro
W. Kent Taylor
Papa John's Careers and Jobs.
Papa John's Careers site is the gateway to job opportunities with this fast-food company. To view the job vacancies currently available at the corporate headquarters in Kentucky, visit this page.
This website lists job opportunities at Papa John's restaraurants in the United States. For all other jobs, use the search function in here, where you can browse jobs by keyword, ZIP code, and career area.
Other employment opportunities with Papa John's are listed in their LinkedIn page.
How to complain to Papa John's.
If you have a complaint to make, you can reach the Papa John's Customer Care team by calling 1-877-547-7272 (within the United States).
You can also contact the company's customer service department by filling this feedback form, which can be used to raise concerns with the Customer Experience team.
Online Support is also available on Twitter via the handle @AskPapaJohns, where customer service representatives are ready to listen to complaints and concerns between 8 a.m. and 10.30 p.m. (Eastern Standard Time).
Other Papa John's Resources.
Here's a comprehensive list of additional Papa John's resources that may be of interest to the general public:
Please share your experiences, praise or complaints about Papa John's pizza, in the comment section.