Southwest Airlines Headquarters
Southwest Airlines Headquarters.
Use this page to find a wealth of information about Southwest Airlines corporate jeadquarters, their executive team, jobs/career pages, company history, and other useful resources.
We have also added information about how to complaint to Southwest Airlines, and how to contact the company via email, phone or social media.
About Southwest Airlines.
Southwest Airlines began operating in 1971 and experienced rapid expansion well into the 1990s. International flights began in 2004. Today, Southwest is considered the world's largest budget airline, serving over 100 destinations in the US, the Caribbean, and Latin America.
The airlines is member of Fortune 500 and its total assets are estimated at $23 billion.
Southwest Airlines Corporate Office Contacts.
Members of the public can reach the airline's corporate headquarters by phone or in writing:
Southwest Airlines Headquarters Phone Number.
+1-214-792-4000
Southwest Airlines Headquarters Switchboard Hours.
9 a.m. to 5 p.m. Monday to Friday (Central Time Zone)
Southwest Airlines Corporate Headquarters Address.
Southwest Airlines HQ
2702 Love Field Drive.
Dallas, TX, 75235
USA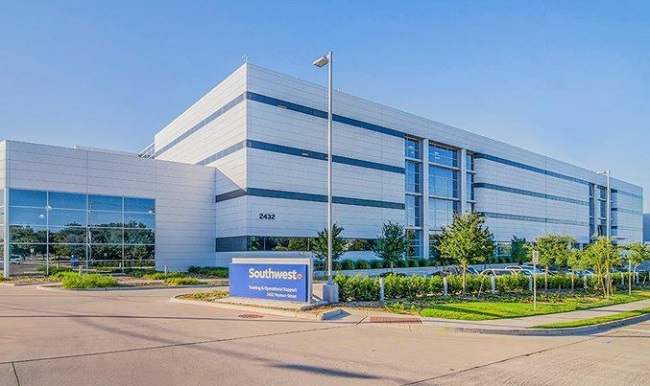 Southwest Airlines Executive Team.
This is the full list of key leadership at Southwest Airlines.
Gary C. Kelly, CEO
Tom Nealon, President
Michael G. Van De Ven, Chief Operating Officer
Robert E. Jordan, Executive VP & Chief Commercial Officer
Jeff Lamb, Executive VP (Corporate Services)
Tammy Romo, Executive VP & Chief Financial Officer
Greg Wells, Executive VP (Daily Operations)
Craig Drew, Senior VP (Air Operations)
Steven Goldberg, Senior VP (Operations & Provisioning)
Mark R. Shaw, Senior VP, General Counsel & Corporate Secretary
Randy Sloan, Senior VP & Chief Information Officer
Alfred Smith, Senior VP (Operations)
Andrew Watterson, Senior VP & Chief Revenue Officer
Elizabeth Bryant, VP (Southwest Airlines University)
Matt Buckley, VP (Cargo and Charters)
Paul Cullen, VP (Corporate Planning / FP&A)
Katherine Findlay, VP (Internal Audit)
Reid Grandle, VP (Corporate Strategy)
Ryan Green, VP (Marketing)
Matt Hafner, VP (Network Operations Control)
Mike Hafner, VP (Customer Services)
Scott Halfmann, VP (Safety & Security)
Justin Jones, VP (Operational Strategies & Performance)
Alan Kasher, VP (Flight Operations)
Leah Koontz, VP Controller
Sonya Lacore, VP (Cabin Services)
Craig Maccubbin,Chief Technology Officer
Joe Migis, VP (Product Solutions / Technology)
Chris Monroe, VP Treasurer
Bob Montgomery, VP (Airport Affairs)
Landon Nitschke, VP (Maintenance Operations)
James A. Ruppel, VP (Customer Relations & Rewards
Linda B. Rutherford, Chief Communications Officer
Mike Ryan, VP (Labor Relations)
Sherry Staber, VP (Business Transformation Solutions, Operations & Enterprise Management)
Trevor Stedke, VP (Technical Services)
Bill Tiffany, VP (Supply Chain Management)
Ellen Torbert, VP (Diversity & Inclusion)
Jason Van Eaton, VP (Governmental Affairs)
Kathleen Wayton, VP (Enterprise Delivery Office & Business Transformation Solutions-Commercial)
Kay Weatherford, VP (Revenue Management & Pricing)
Julie Weber, VP People
Southwest Airlines Board of Directors:
Gary C. Kelly, Chairman
David W. Biegler
J. Veronica Biggins
Douglas H. Brooks
William H. Cunningham
John G. Denison
Thomas W. Gilligan
Grace D. Lieblein
Nancy B. Loeffler
John T. Montford
Ron Ricks
Southwest Airlines Careers and Jobs.
View and apply to jobs with Southwest via their Careers page.
Alternatively, you can browse through vacancies using the airline's Facebook Careers page or LinkedIn Jobs site.
How to complain to Southwest Airlines.
For complaints related to Southwest flights, call 1-800-435-9792 or 1-855-234-4654 (lines are open 24/7).
If you prefer to send a written complaint, send an email to support@southwest.com, fill in the contact form under "Email Us", or write to Southwest Airlines, P.O. Box 36647-1CR Dallas, TX 75235.
Contacting Southwest Airlines on Twitter is often the fastest option for minor issues, tweet at #SouthWestAir at twitter.com/SouthwestAir/with_replies and you will get a reply within 20 to 30 minutes.
Other Southwest Airlines Resources.
Below is a list of useful resources relevant to media organisations, investors, and members of the public.
Please share your experiences, praise or complaints about Southwest Airlines in the comment section.