WWE Headquarters.
Everything that you need to know about the World Wrestling Entertainment corporation, their corporate office and headquarters contacts, and a list of the various ways of contacting the company's customer service.
About WWE.
World Wrestling Entertainment (WWE) is a US sports entertainment company that also produces films, games, music, books, and a broad range of merchandise related to professional wrestling.
The company was founded in Massachusetts in 1980, and became WWE after acquiring Capitol Wrestling.
WWE is headquartered in Connecticut, but has regional offices in Europe, the Middle East, Asia, and the Asia-Pacific region and its content is available in 180 countries.
WWE currently has 4 main divisions / departments: Live Events, Media, WWE Studios, and Consumer Products.
WWE Corporate Office Contacts.
To reach the WWE head office in Connecticut, use the phone and address details listed here.
WWE Headquarters Phone Number.
+1-203-352-8600
WWE Headquarters Switchboard Hours.
Monday to Friday, from 9 a.m. to 5 p.m. (Eastern Standard Time). Voicemail and automated messaging system available 24/7.
WWE Corporate Headquarters Address.
1241 E. Main St. Stamford,
CT, 06902
USA
Furthermore, WWE's email contact form can be used to reach the WWE corporate office and other departments.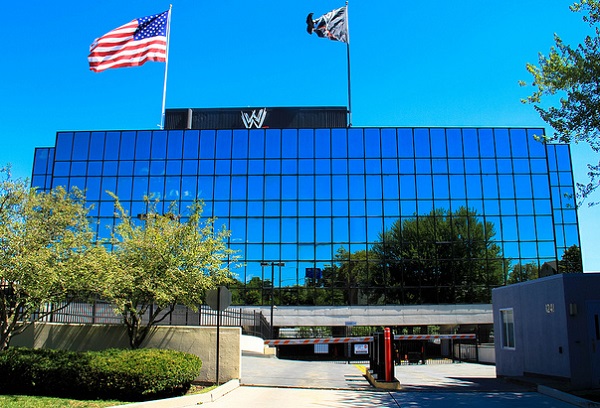 WWE Executive Team.
This is a complete list of World Wrestling Entertainment's key leaders.
Vincent K. McMahon, Chief Executive Officer
Stephanie McMahon, Chief Brand Officer
Paul Levesque, Executive Vice President (Talent, Live Events & Creative)
George A. Barrios, Chief Strategy & Financial Officer
Kevin Dunn, Executive Vice President (Television Production)
Michael Luisi, President of WWE Studios
Michelle D. Wilson, Chief Revenue & Marketing Officer
WWE Board of Directors:
Vincent K. McMahon, Chairman of the Board
Stuart U. Goldfarb
Patricia A. Gottesman
Lauren Ong
Joseph H. Perkins
Robyn W. Peterson
Frank A. Riddick III
Jeffrey R. Speed
WWE Careers and Jobs.
For an overview of the career opportunities available at WWE, visit this page, where you'll also find information about internships and company's veteran partnership programme.
You can also use LinkedIn to browse job listings and create job alerts.
Other useful resources for WWE career information are: Twitter WWE Careers / @WWECareers and WWE Careers on Facebook.
How to complain to WWE.
Any complaints related to the WWE Network can be made by calling +1-512-225-6300.
For Customer Service assistance related to complaints about the WWE Shop, call +1-866-993-7467 (daily from 9 a.m. to midnight, EST) or call 484-577-8770 if you are outside the U.S. & Canada. Alternatively, send an email to WWEShop@wwe.com.
A complaint box has also been made available in this Facebook page.
WWE also has a popular live chat function, that is available to both subscribers and non-subscribers. Customer service agents are available Monday to Friday between noon and 11 p.m. EST.
Other WWE Resources.
Additional resources and contact details for WWE and its various departments can be found below:
WWE on Twitter / @WWE and Twitter Universe / @WWWEUniverse
Corporate Contact form (for enquiries about programming, content, media, investor, relations, or fan services). WWE Studios: Entertainment Relations, 12424 Wilshire Blvd, Suite 1400, Los Angeles, CA 90025 / +1-310-481-9370
WWE Music Department: 780 Third Avenue, 5th Floor, New York, NY 10017 / +1-212-909-9230
WWE TV Production Department: 120 Hamilton Avenue, Stamford, CT, 06902 / +1-203-353-2900
Talent Marketing Enquiries: Talent.marketing@wwe.com
Information for Investors / investor.relations@wwecorp.com / +1-203-352-8642
International Media Enquiries: +44-207 349 1744 / dan.humphreys@wwecorp.com
Corporate Communications: christopher.bellitti@wwecorp.com / +1-203-352-8759
Please share your experiences, praise or complaints about the World Wrestling Entertainment, Inc, in the comment section.