Apple Headquarters and Corporate Offices.
Apple Inc. is an American technology company headquartered in Cupertino, California. Its hardware products include the iPhone smartphone, the iPad tablet computer, the Mac personal computer, the iPod portable media player and the Apple Watch smartwatch.
Apple's online services include the iTunes Store, the iOS App Store and Mac App Store, and iCloud.
Apple was founded by Steve Jobs, Steve Wozniak, and Ronald Wayne in April 1976.
Apple Headquarters Corporate Address.
The Apple corporate office is located in Cupertino, California, USA.
You can address any correspondence to the Apple headquarters to:
Apple Headquarters
1 Infinite Loop Cupertino, CA 95014
USA
Apple Headquarters Phone Number.
The Apple corporate office phone number is: 1-408-996-1010.
For customer services, you can call: 1-800-My-Apple and for sales support, call: 1-800-676-2775.
Apple Headquarters Email Contacts.
Apple has en email form service that can be used mainly for help and feedback. We have not been able to locate an email address for the corporate office.
Apple does have a Media Help email address at: media.help@apple.com
To email Apple's Legal Department, please use the form here.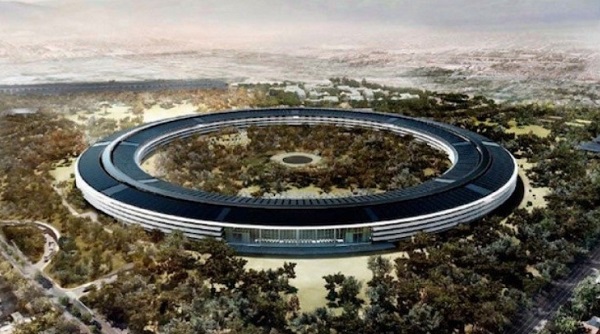 Apple Jobs and Careers.
If you wish to contact Apple about job opportunities, then please visit Apple Jobs. The company usually has around 500+ available job opening in the USA at any time.
For international job and career opportunities, please find your country on this page.
Apple also lists available jobs on their LinkedIn Jobs Page.
Apple Executive Team.
Below we have listed the complete Apple Executive Team and Board of Director.
Apple Executives
Time Cook – CEO
Jonathan Ive – Senior Vice President
Peter Oppenheimer – Senior Vice President
Dan Riccio – Senior Vice President
Philip Schiller – Senior Vice President
Eddy Cue – Senior Vice President
Craig Federighi – Senior Vice President
Bruce Sewell – Senior Vice President
Jeff Williams – Senior Vice President
Apple's Board of Directors
Millard Drexler
Albert Gore
Robert Iger
Andrea Jung
Arthur Levinson PhD
Bill Campbell
Tim Cook
Ronald Sugar PhD
How do I contact the Apple Customer Care?
If you need to file a complaint about an Apple product or service, or if you have an issue or question for the customer service department, then there are several ways to go about it: The most popular Apple Customer Service phone number in the USA is 1-800-676-2775.
When making purchases, for after-sales help, or for product issues, you can contact Apple's Live Chat line or call 1-800-MY–APPLE (1-800–692–7753), 7 days a week from 7:00 a.m. to 10:00 p.m. Central time.
For order status, delivery of orders from the Apple Online Store,visit the Order Status page. You can also get order status or make changes to your order by phone at 1-800-692–7753, 7 days a week from 7:00 a.m. to 10:00 p.m. Central time.
Learn more about the Apple Customer Service on our Apple Customer Care page.
Apple Resources.
Feel free to share your Apple experiences, praise or complaints, in the comment section.