Limited Brands ACES ETM.
Everything you need to know about the Limited Brands Aces Employee Portal (Aces ETM)
How do login to the Limited Brands Aces website, how to your Limited Brands work schedule, and Human Resources contacts and phone numbers.
What is Limited Brands ACES ETM?
L Brands Inc. (formerly known as Limited Brands Inc and The Limited Inc.) is an American fashion retailer headquartered in Columbus, Ohio. The company has 94500 employees, working for these retail brands:
Victoria's Secret
Bath & Body Works
Pink (sold through Victoria's Secret)
Henri Bendel
La Senza
Aces ETM is L Brands' Employee Portal. Employees can manage their pay, taxes, benefits and work schedule from within the website.
Limited Brands ACES ETM EMployee Portal – Advantages.
After login with L brands, you can:
Check tax details.
Make employee reports.
Check your paystubs online.
View Your work schedule at Limited Brands.
Manage your health benefits and 401K
Limited Brands ACES ETM Login.
Please, note that there are 2 different login pages for the Limited Brands Employee Portal.
If you need to get to the main employee ACES ETM login page, then please visit:
or
Log in with you user id and password.
After you have logged in to the employee section, you will see various links on the left hand side.
Click the "My Job" link.
Your User ID is your 6 or 7 Limited Brands associate ID number without any zeros in front. You can locate it on your paystub. Your password is the password you created when you joined Limited Brands.
ACES Scheduling – Management Only
This login page is used for scheduling.
Store Management Login:
– User ID is your 6 or 7-digit Employee ID number, not including the 0's at the beginning
– Your password is the password associated with your Employee ID.
DMs and Home Office Associates Login:
– Use your Network ID and Password
Register as a New User.
New store users can Register with the help of this page.
Enter the SSN or SIN. Only need to type the six last digit of your SSN number.
Enter your date of birth, as Month, Day, and Year. Write it in numbers.
Enter your email address and retype it in the second box.
Enter your password. You can choose your password. Your password should be the mix of numbers, letters, and other characters. Passwords must be at least 8 and less than 20 characters in length and contain at least 1 number.
Read the terms and condition then submit your form. Then, click on the submit button.
Make sure that you typed all of the correct information currently on-file with human resources.
Only store users can use the Register Now option. Other users should login with their L Brands network user credentials.
If you have a problem when registering, please contact the LTS Consolidate Services Desk at 1-877-415-7911 and report the error code: "ERROR 002: PeopleSoft lookup failed. Your registration was not completed successfully".
Your L Brands associates account will be deleted 30 days after you have resigned form your job.
I Forgot My User ID.
If you a Home Office user, then your user id is your associate number without the leading 0 (Zero).
Otherwise, your User Id for self service is your L Brands network user ID.
Look at your paystub, to find your associate id number.
I Forgot My Limited Brands Login Password.
If you have forgotten the password of your account then call 1-877-415-7911. This service is available 24 hours a day and 7 days a week.
If you don't receive the user name or user id and PIN code or Password then please contact your employer.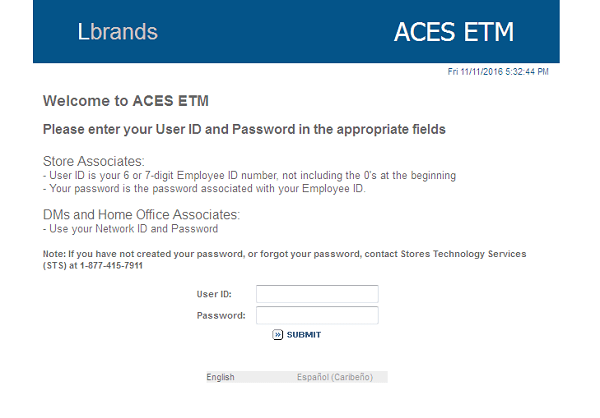 L Brands (Limited Brands) Headquarters.
You can contact L Brands corporate office on this address:
L Brands, Inc. World Headquarters
Three Limited Parkway
Columbus, OH 43230
USA
L Brands (Limited Brands) Headquarters phone number: 1-614-415-7000
L Brands (Limited Brands) Human Resources HR phone number: 1-877-4157-911.
Limited Brands Carreers and Jobs.
If you are interested in getting a job at Limited Brands, or if you are an existing employee, who wants to change job, then visit the L-Brands Careers Page. The Job Search page is found here.
Please share your experiences with the Limited Brands Associate ACES ETM website, below.