MyHR CVS.
Everything you need to about the MyHR CVS Health and MinuteClinic Colleagues Portal.
See contact phone numbers, get login help, view your CVS work schedule and MyHR CVS payroll, and get answers for all your questions about the CVS MyHR employee website.
Contact MyHR CVS.
If you have an urgent question, you can call a MyHR CVS representative.
The human resources Toll Free phone number is:
1-888-694-7287 (888-myHR-CVS)
Press 2 for Health and Welfare.
The CVS MyHR hours are: 8:00 a.m. and 8:00 p.m. Eastern time, Monday through Friday
CVS MyHR Address is: One CVS Dr. Woonsocket, RI 02895
For technical issuesCVS Job opportunities, please contact the help desk on 1-855-338-5609 or email cvshealthsupport@us.ibm.com.
What is MyHRCVS?
CVS Health, CVS Caremark and CVS MinuteClinic employees can log on to the CVS Human Resources website and manage taxes, paychecks, benefits and other work related issues from within the website.
The MyHR CVS website is operated by Aon Hewitt, the international human resources company.
MyHR CVS Login.
The MyHR CVS website has a login box for former employees and a login box current employees.
Make sure that you use the correct one.
The main website login page can be found at myhr.cvs.com.
If you have forgotten your User ID or Password, then visit the Login page and click on the 'Forgot User ID or Password' link.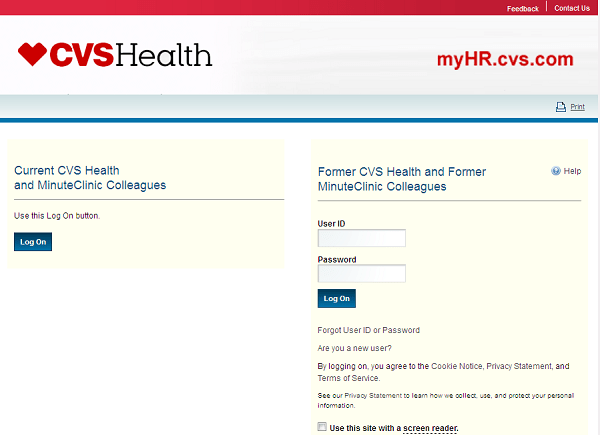 Former CVS Employees' Login.
The login page for former CVS employees is located here.
Store Colleagues: Use your 7 Digit Employee Id and CVSLEARNet password to login.
MinuteClinic Colleagues: Use your 7 Digit Employee Id and the password associated with your Federated logon.
Distribution Center Colleagues: Use your 7 Digit Employee Id and myHR password to login.
Non-Store and PBM Colleagues: For MyHR, please use your network Windows Id and password to login (computer login). Momentum: Use your 7 Digit employee number and CVSLEARNet password to login.
The website can not be accessed with and ip address from abroad, so make sure you visit the page from an USA or Canada location.
www.MyHR.CVS.com Payroll Login.
All employees have access to their CVS Learnet/MyHR CVS accounts. You can access your profile and check your previous payroll details whenever you want.
You can also create payroll reports for certain periods if needed. Generated payroll reports can be sent directly to your email.
All the employees of MyHR CVS get a unique ID and password to login to the CVS portal.
To log in now and check your CVS payroll, visit www.MyHR.CVS.com.
MyHR CVS Services and Features.
MyHr CVS member features include:
Paycheck View
Tax Status View
Life insurance
Adoption assistance
Employee Stock Purchase Plan
CVS Colleague Discount Card
Health and wellness programs
Employee Stock Purchase Plan
Vacation/paid time off
401(k) Retirement Plan (U.S. colleagues) / Puerto Rico Retirement Savings Plan
Health Savings Account and Health and Dependent Care Flexible Spending Accounts
Free flu shots, health screenings, smoking cessation and weight management programs at MinuteClinic
Short-term and long-term disability coverage
Comprehensive health care coverage, including medical, prescription, dental and vision
Transportation benefit
Education assistance
Employee Assistance Program
Employment details for previous employees
Employee discounts
Additional Benefits.
These additional benefits can be added with an added payroll deduction:
Supplemental medical insurance plans
Legal Services Plan
Colleague Discount Program
Auto and home insurance
CVS Health Discount Center
Identity Theft Protection Program
CVS Health Discount Center
MyHR.CVS.Com Registration.
If you are new user, simply click on the "Are you a new user?" on the start page to set up an account.  Enter the last four digits of your social security number and your birth date, and you will get the option to pick a new username and PIN number.
When you create the password, you can also set up a 'hint' that will help you remember it. For example, if your password is "blue", your hint could be "sky". If you forget your password, you will see the hint.
CVS LEARNet Login.
CVS Learnet is CVS's Health Learning Management System.
Use your 7 digit employee ID number and your CVSLearnet/MyHRCVS password to log in. Passwords are Case-Sensitive.
CVS Learnet be accessed at www.cvslearnet.cvs.com.
Please share your experiences with, or complaints about, the MyHR CVS Employee Website, in the comment section.